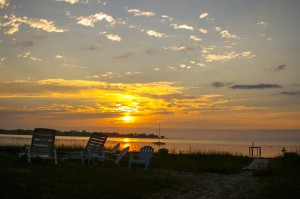 You waken to the sound of gulls and the gentle lapping of Lake Huron's morning swell. The wind is calm and the Bay is nearly flat.
In the distance you can hear the horn of 14-foot Shoals Light, and boats leaving Cheboygan Harbor. You walk down to the water and check out the latest little islands of sand formed overnight along the water's edge.
As the sun climbs, you stretch out in a chaise on the deck and work that tan. To cool off, you plunge into the afternoon's gentle surf and start the grill for your evening meal.
After dinner you explore the dunes and watch as another million-dollar sunset unfolds.
Here are some of the comments from the beach house diary:
Swam, sunbathed, jet skis, Mackinaw City and Mackinac Island, read, watched movies, campfires, crossword puzzles, watched sunsets . . . had a great day taking jet skis to Mullet Lake. Going through the lock (on the Cheboygan River) was a new experience for all of us. This is a great cottage – look forward to coming back.

•
Visited the fort in Mackinaw City, Mackinac Island, Mill Creek (very nice), Mystery Spot. We also played golf and fished. We watched the boys, age 3 and 5, swim (in front of the beach house) and play at the State Park playground.

This house is wonderful and the Hurds have furnished all the necessities . . . we've rented several other places but were not real satisfied with any of them. We were here only a few days when we all decided we'd found our new summer "home".

We are already looking forward to coming back next summer.

•
Cooked chicken over an open fire on the beach . . . church @ the covenant church . . . R & R on the beach . . . Whitefish Point and Soo Locks day trip . . . canoed to Cheboygan Point . . . Mackinac Island for the day . . . visited the State Park . . . enjoyed the Nooma DVD series . . . the guys appreciated the Nintendo games . . . love the sandy beach.

We really enjoyed this trip. Being able to connect as a family in this relaxing environment was great. We found that there were just enough things to do here that we all enjoyed yet it was also a good environment for some R & R. We would love to come back again.
•

We built a fire every day . . . enjoyed the fire and sounds and sights of the water in front of us . . . went in the water every day . . . the water and relaxation were really needed.

•
chilled at the beach every day, walked the creek at Ocqueoc Falls, went to Mackinac Island, shopped in town, went to a movie in Cheboygan, collected some shells, took Ken out for Father's Day, went miniature golfing, and enjoyed the peace and quiet.